While dicking around the interwebs today, I realized we hadn't written a post in almost a week, so I shit my pants. Even for our self-proclaimed grade-A laziness, this is unacceptable. What kind of a sham is this site, anyway?
It got me to thinking. I'm too late to the party to write about Team USA's triumph over those dirty Canadians (although for awesome takes on said game, you should probably click
here
,
here
, and
here
).
I have absolutely nothing new to say about the Red Wings at large, mostly because I'm afraid any projections, whether optimistic or threatening, may jinx the team upon the return of NHL play.
It's not Wednesday, either, so I can't unleash one of our weekly questions on you. (Speaking of which, if any of you have any questions you'd like us to hash out on here, feel free to email them to us at TheScrappyOctopus@gmail.com, along with your wildest dreams and deepest, darkest secrets. You will get credit for your original thoughts, and if your dreams are wild enough and your secrets debauched enough, you may get an email response directly from Brian, who will, invariably, be typing pantslessly.)
So, what to do, what to do? Then, it hit me like a ton of scrotum-shaped bricks: Let's get back to basics by doing what we do best, shamelessly mocking others. Then I started pondering all the things I hate, and a couple of hours later, I remembered an old standby: the
Scarlet Caps
fan club. (You know, the Capitals-sponsored thingy in which we chicks are supposed to get our rocks off gazing at seductive pics of the roster, then we're supposed to enlighten our delicate minds with the intricacies of hockey terminology.)
Continuing my neurotic conversation with myself, I then wondered if I was being narrow-minded. After all, what kind of person am I if I can't be supportive of my sistren? I mean, what kind of hockey fan am
I
, anyway? How about you? Not sure? Well, grab your pencils and paper (even the fellas out there), and let's find out:
What kind of hockey fan am I?
...the tell-tale quiz

1. When I say
icing
, you think:
A. "What a cute name for a hockey term!"
B. "I'm going to cut that bitch who's staring at me right now."
C. "Oooh, Icing! I love that store in the mall. Wait, you thought I meant cake frosting? Oh, god, no; that would take me forever to purge."
2. The term
five-hole
conjures this thought:
A. "But...I don't get it. The goalie doesn't have five holes, does he?"
B. "No, seriously, I'm going to fucking cut that bitch who's staring at me right now."
C. "Five-hole? [Giggle.] OMG, that totally reminds me: Did I ever tell you about that time I got
really
wasted at a frat party?"
3. You're getting ready to go to a hockey game. Even though you're a casual fan, you peruse your wardrobe thoroughly for the perfect outfit:
A. You accidentally show up boasting the opposing team's dominant color. What, you're supposed to wear a certain color to support a specific team?
B. You can't remember what you wore, specifically, but it was guaranteed comfortable enough in case you had to throw down during intermission.
C. You approach the game the way you approach getting dressed each day of your life: mirroring your style icon, Mariah Carey. She really has a good eye for fashion appropriateness.
4. Your favorite player earns an assist on a goal. Your reaction:
A. "Oh, I didn't see him helping! He's such a cute little helper, though."
B. "Oh, shit, that bitch just heard me talking shit about her."
C. "Why are you not looking at me right now?"
5. You witness your first hat trick in person. How fun! Your thoughts:
A. "I'll only be able to remember this if I think of a magician with a rabbit in his hat."
B. "I can't believe I just got my face beaten in by some bitches."
C. "Hats? Yuck. I'd rather be drenched in stale ball sweat than wear one."
Now, calculate your totals...
Mostly As
Congratulations, you are...

Mostly Bs
Congratulations, you are...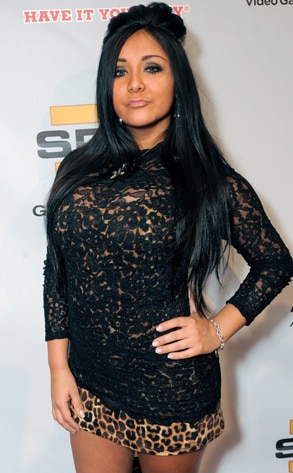 (H/T to
Rob
, Snooki's biggest fan.)
Mostly Cs
Congratulations, you are...


Couldn't find any answers that suit you? Congratulations, my friend, you are...
TSO-approved! Go ahead--print this out, and wear it as a badge of pride. (Non-transferable. Do not pin this on unworthy peers.)